From snail-mail correspondence courses to comprehensive digital training, distance learning has come a long way and has now reached its prime as eLearning. Today, it's no longer a novelty but a booming industry. According to statistics from Ambient Insight, the global eLearning market will continue to grow by 5% yearly, and in time will replace offline formats.
eLearning continues to gain ground in the corporate sector. Businesses implement it to develop their staff, streamline their processes, and extend their reach.
So what is eLearning in a real-world context and why is it so attractive? Let's have a look.
Today, when people say "eLearning", they're referring to training on any digital device. Watching an educational video, reading an interesting article, or taking a quiz — all that is eLearning.
Comparing eLearning to traditional education methods is like comparing e-book formats to paper books. Just like digital texts can't replace the authenticity of a real book, eLearning can't replace full-scale education. However, it is always available as long as you have your digital device with you, and thus, it's more convenient.
Convenience is one of the main reasons people love eLearning. Another reason is that you can customize your learning experience with other novelties, like augmented reality and virtual reality (people love new technologies!). For example, with VR courses, warehouse and construction site workers receive safety training, and medical students learn how to locate bones and blood vessels.
We use eLearning daily to develop ourselves as individuals. We read articles, watch YouTube videos, and play games to exercise our brains on our smartphones. Businesses, from small startups to enterprises, also utilize eLearning to train employees and help with internal processes. But wouldn't you like to know how it all started?
The History of eLearning
The term eLearning was coined by US learning guru Elliott Masie in November 1999, when he delivered his speech at the TechLearn Conference: "eLearning is the use of network technology to design, deliver, select, administer, and extend learning."
In 2000, eLearning was revolutionized as a technology with the release of OLAT, the first open-source learning management system. That year also saw the release of the first version of SCORM, a standard that enables users to package content and distribute it within an LMS.
In the early 2000s, mobile devices became more and more prevalent, and took the form of smartphones and tablets. They were no longer used just to make calls: people watched videos, read books, and played games on their phones. That prompted cellular companies to improve mobile connectivity, a race that continues to this day.
Mobile devices are now a popular choice to access eLearning, both for businesses and general education.
Want to know more about the history of eLearning? Check out this timeline:

Benefits of eLearning for Businesses
Today, many companies, from large enterprises to small startups, use eLearning to manage their employees' development: upgrade their qualifications, teach them new skills, or retrain them for new positions.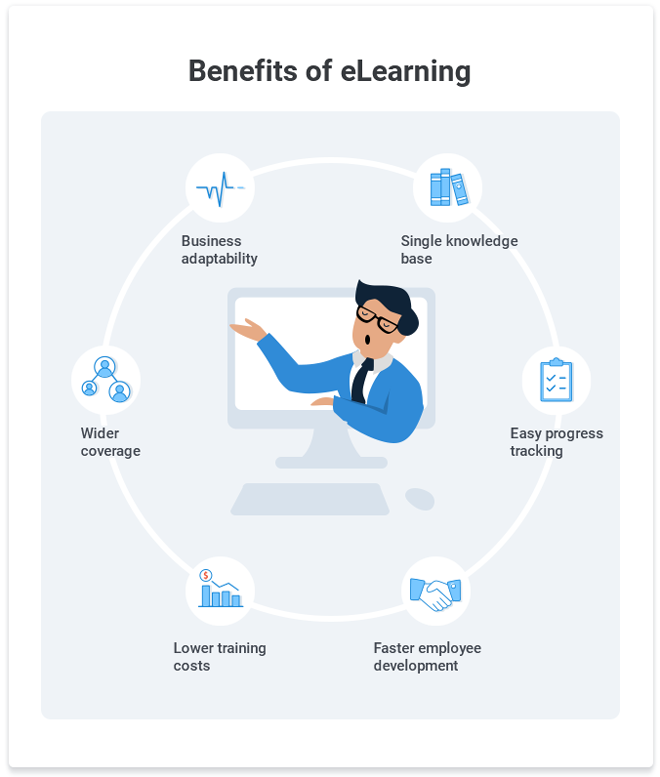 eLearning is a great boon to businesses because it provides:
Lower training costs
With eLearning, you don't have to spend a fortune hosting seminars, renting hotel rooms, and covering travel expenses. You can simply develop an online course and share it with your employees.